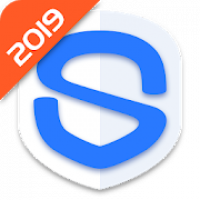 360 Security - Antivirus, Booster, Phone Cleaner
Rating: 4.00 (Votes: 1)
Security Protection for Android Phone with Speed Booster, Junk Cleaner, Anti Spyware and Virus RemoverTrusted by 200 million users, 360 Security is the all-in-one power cleaner, smart speed booster and antivirus app that optimizes your background apps, memory storage, junk files & battery power, keeping your device safe from virus.Download the super speed cleaner & security app that's intuitively designed to protect your mobile in just ONE tap.
Why 360 Security is a MUST-HAVE app?
★ Effective Speed Booster & Smart Cache Cleaner-Lacking space for new apps and photos? Just clean app caches and junk files, boost your phone with ONE click!
★ Smart Battery Saver- Battery draining quicker than ever? Kill redundant apps that drain your battery!
★ Virus Remover for Android-Worried about viruses or phishing? 360 Security's antivirus solution makes sure your device is free from malware, vulnerabilities, adware and Trojans!
------------------------------------------
Highlights of 360 Security
►
Security & Antivirus
Scan installed apps, memory card content and new apps automatically. 360 Security's latest protection technologies against viruses, adware, malware,etc.
►
Junk File Cleaner
Mobile cleanup app. Delete all types of junk files (system cache, image cache, video cache and advertisement cache) to free up the storage space.
►
Speed Booster
Optimize memory and speed up phone. Clean up memory (RAM) to boost speed and improve phone performance , also boost games to make them run smoothly.
►
Multi-function lock screen
*Automatically check phone status when locked to provide optimization suggestions
*Handy tool can turn on the dial, camera, flashlight quickly and turn on or off WIFI, Bluetooth, etc.
*Provide high-quality wallpaper to make your lock screen more beautiful
*Manage notification to avoid missing any important info
*Support to operate music player on the lock screen
*Full charge notification alarm to avoid overcharging
*Provide the feature to view local weather
►
Call & SMS Filter
Help block unwanted/spam calls and text messages. Allow you to add anonymous numbers to blacklist from call log, message and contacts.
►
Notification Manager
Allow you to hide useless and annoying notifications, and prevent excessive notifications from coming up at the same time.
►
WiFi Security
:
Detect current WiFi connection to keep your phone safe from insecure public WiFi.
►
Privacy
Privacy & App Lock – Prevent data on the device such as Facebook, Instagram, Snapchat, photo albums and other important & private documents from falling into the wrong hands.
►
Intruder Selfie
Instantly snap a photo of anyone who breaking into your apps and record the date & time in App Lock for check.
►
App Manager
- Uninstall apps and move apps to SD cards.
►
Fingerprint Lock
Unlock screen quickly and easily with your fingerprint if your device has the fingerprint sensor, no fear of forgetting pattern or PIN code any more.
►
Real time protection
Scan installed apps & local APK files and also monitor each installation process, provide payment & shopping security.
here to confirm current available version from google play store will not ask BIND_DEVICE_ADMIN permission!
------------------------------------------
360 Security is available more than 35 languages: English, Português(Brasil), Português(Portugal), Español(España), Español(Latinoamérica), Pусский, हिन्दी, ไทย, Bahasa Indonesia, Türkçe, Tiếng Việt, Bahasa Melayu, 日本語, Deutsch, Français, 한국어, Italiano, Čeština, Nederlands, Svenska, Polski, Suomi, Română, Ελληνικά, Magyar, etc.
► Read in app permissions and usage here: ► http://goo.gl/3a2mCd
We would like to hear from you:
Like us on Facebook:
https://www.facebook.com/360safecenter
Join us on Google Plus Community:
https://plus.google.com/communities/109670671299307805270
Based on 1 Votes and 0 User Reviews
Other Apps in This Category