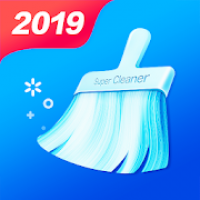 Super Cleaner - Antivirus, Booster, Phone Cleaner
Rating: 4.00 (Votes: 1)
Super Cleaner is a world-class cleaning & boosting program for Android, which has functions of Junk file Cleaner, Virus Cleaner, Phone Booster, CPU Cooler, App Lock and Notification Cleaner, trusted by over 100 millions of users worldwide! Super Cleaner boasts a 4.7 (⭐⭐⭐⭐⭐)rating, is one of the highest rated cleaner applications on Google Play!
How does Super Cleaner improve your device performance?

Junk Cleaner
- Clean junk files

Cache Cleaner
- Clean up useless application cache files

Phone Booster
- Optimize memory and speed up your phone

Game Booster
- Boost speed performance and expertly free up memory space

Antivirus
- A powerful virus cleaner that efficiently removes threats

App Lock
- Protect private information in apps with extra passwords

App Manager
- Analyze and manage the status of apps intelligently 


Super Cleaner key feature details: 


Junk Files Cleaner
Analyze and safely remove the junk files that take up your memory and storage space. Clean with only 1-tap, free up space and boost phone speed. 


Cache Files Cleaner
Clean residual system cache files left by uninstalled apps to free up disk space for Android phone or tablet.


Storage Optimizer & Cleaner
Clean up duplicate photos, music, documents and unnecessary apps, free up space and accelerate your device. 


Security & Antivirus - Virus Cleaner
Powered by a world-class virus detection engine, Super Cleaner protects your device from all virus attacks and any other threats.


Phone Booster
A quick booster can free up RAM and clean background tasks. 


Security App Lock
With AppLock, you can add extra password protection to sensitive apps, such as Facebook, Message, Gmail, WhatsApp and Snapchat. Keep privacy snoopers away from your private information by setting an additional pattern or PIN password. 


Game Booster
Clean your device's memory to give it a significant speed boost. End background processes to boost gaming performance.
Notifications Cleaner & Manager
Annoying notifications on your device driving you insane? Super Cleaner helps to compile all useless notifications and silence them, keeping your device clean, quiet and more efficient than ever before!
Private browsing

Super Cleaner's fully encrypted browser allows you to visit any website without leaving any history on your phone. Worrying about privacy exposure? Not anymore!
Smart charge
Shows charging state and offer optimization suggestions when charging, also provides a screensaver which displays the running condition of your device.
Based on 1 Votes and 0 User Reviews
Other Apps in This Category